News
An interview with Jess Lizama for Teen Mum Academy
20 May 2022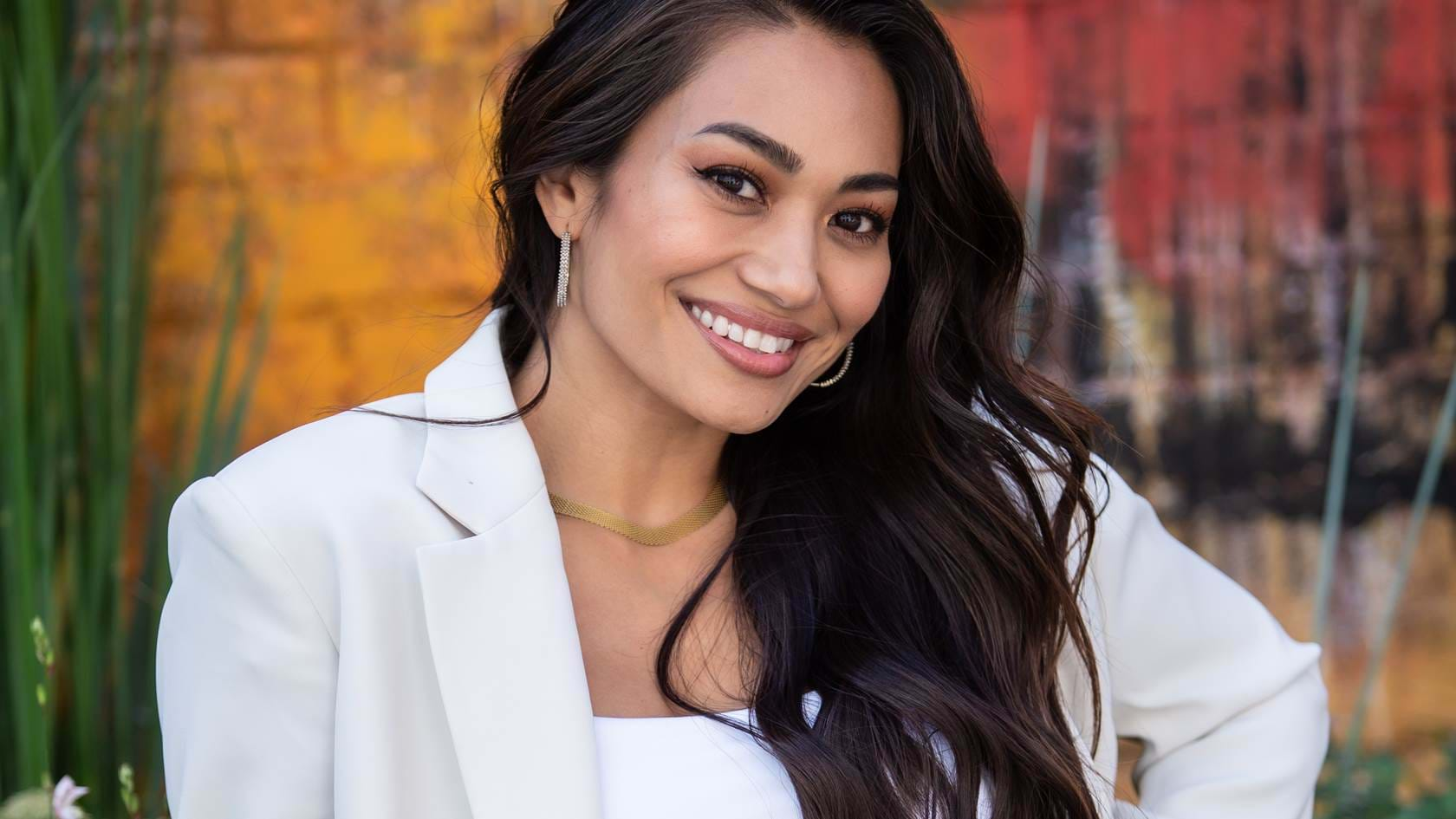 An interview with Jess Lizama for Teen Mum Academy
Teen Mum Academy starts Monday 23 May on E4 and All 4. 
Six ambitious teen mums are to be given one big opportunity to supercharge their life-experience, build confidence and learn new skills.
E4 is set to follow six determined teens who have already experienced one of the biggest life events there is – becoming mums - as they embark on a potentially life changing experience, helping them to build confidence, relationships and a broad range of new skills to help aid them in both their future careers and their personal lives.
This empowering new 10x30' factual series co-produced by Dragonfly Film & TV (part of Banijay UK) and Motion Content Group, is inspired by real schools dedicated to teen mums and will join a group of impressive and talented teen mums, as they throw themselves into a specially created course that could help transform their approach to their lives. Each young mum will have a fiery passion to learn and huge untapped potential but may have barriers holding them back.
MEET THE MENTOR
Jess Lizama
Jess, who had her daughter aged 16, overcame many hurdles to become a successful full-time lifestyle blogger, content creator and wellness coach. Having been a teen mum herself she knows exactly what our young mums are going through. She's been there, done it, and is now hugely successful in her chosen field. She will coach, advise and challenge our young mums as they embark on their own journey's. 
Q&A:
Jess – welcome to the UK, how have you found your time here?
I've never been to England before, so this is very exciting for me, and I hope to bring a little of California's sunshine to the UK! 
 
Tell us a little bit about you…
I'm Jess Lizama, I was a teen mom. I got my start on YouTube back in 2010 before being an influencer or creator was ever really a thing. I was using that platform to make fun of the human experience, because I was a teen mom and I didn't have a lot of friends and I had a lot of time. I really was just making fun of dating because it can be so hard to be human sometimes. I found an audience that way and then I wanted to fully control and own my business, so I then launched a blog. Following that, I started working with brands and took the time to invest in my audience and let them in on my life and personal life, which I'd never done before. Now I consult entrepreneurs and consult with brands to help them navigate influencer marketing and what it is like to be a creator. It's very exciting.
 
So – Teen Mum Academy, how excited are you to be involved in this project and why was it important for you to join?
Being a part of Teen Mum Academy is valuable and so special to me and I'm so honoured that they chose me to be the mentor for these girls. I'm looking forward to hearing their stories. As a teen mom myself, I didn't have a lot of friends or a community. My high school pushed me out, my parents kicked me out when they found out I was pregnant, so just having other people in your corner who know what you're going through I think is so valuable—especially when you are young. I was a baby having a baby! I didn't know what I was doing. So I think I'm most looking forward to really helping this group of women navigate the space of being a mom, but also take care of themselves.
 
Tell us about Teen Mum Academy – in your words, what is it about?
I'm there to apply pressure! I'm the head mistress of the Academy. Whatever their professional goal is, I'm going to try work that into their personal lives and goals. I'm going to send the mums out on projects, tasks, and give them homework that will be able to give them opportunities to develop their brands. I want to help them sharpen their edges.
 
The Teen Mums on the show are clearly very ambitious, did you see your younger self in any of the mums?
These young moms were so ambitious, and I saw a bit of myself in each of them. One of the moms was a firecracker and I felt a lot of my fiery energy being drawn to her energy. The interactions between each of them too—those were similar interactions I've had with my peers throughout my life, so I definitely felt bonded with them on that. I hope they are really proud of themselves, as I'm really proud of them.
 
It was great seeing you get really involved with the mums. What was the best bit about filming the show in your opinion?
The best bit for me as their mentor, who quickly became their friend, is seeing the arc in each of them. There is a personal character arc in each girl where they have to overcome something from a task or a piece of homework to something in their personal life. Then I was on the other side holding the space and letting them know that when it got tough I could say, "I see you. I know it feels like it's a lot, but you'll get through it." Watching them overcome their challenges and sparkle was wonderful.
 
You had loads of fantastic advice for these ambitious women, tell us a little bit more about how your experience could give these women the inspiration they needed to succeed?
I think that the experience I've had in my life and career helped them in their personal and professional lives. Something that I brought to the table in my personal life and professional career is that I really did use every part of my life to guide these girls. We had one-on-ones where we had a mentor room. I would see them individually and I took those moments to get really personal. This was our time to sit down and we got to know each other and I could piggy back off of something in my own life, relate it to these women, and give them the feedback that could enable them to hopefully succeed.
 
There were some tense and emotional moments too during film, tell us how you navigated those and provided advice to the women when they really needed support?
This was an intense process. There were six moms, all with their babies in the same house—so there are a lot of personalities to navigate and get to know. We also have to remember that these babies are Covid babies and these women have been isolated, so learning how to communicate with someone was really important for them. But I tried my best to help them find their way through, and those one-on-ones really helped them to feel grounded and know that I had their back at all times.
The girls' confidence grows throughout the series—how did watching those journeys make you feel?
My proudest moment as their mentor was watching these young women change in such a way that their confidence got so high and it bubbled over. It was inspiring. Their confidence really shone through from the tasks that they were given. I made them do an elevator pitch, where they literally got in an elevator and had to pitch their business to each other before the doors opened. I sent one of the girls on a live taste test for her cupcake business where she had to actually engage and interact with the British public. You could see through these tasks that their confidence just grew and grew.
 
Do you think the Teen Mum Academy helped these mums and what do you hope they have taken away from the experience?
I do hope it has. I really hope what they have learned is that they have all the tools they need. I think we've set them up on a trajectory for success. Every piece of homework, every project I sent them out on, and every group activity where there were team building skills—if they can apply all of the skills they learnt from these experience, they can succeed. Community building and confidence I think is major and I think those two things coupled with their confidence and realising their potential is important and I hope they've learnt that so they can go and kick the doors down on their career.
 
For a full-time teen mum watching this show, who wants to also focus on her career, tell us what your top 5 tips are for balancing mum-life and business-life.
It can be hard to human sometimes. I was a teen mom and I understand how challenging it can feel to navigate through life when you have no idea what you're doing. I hope these tips set you on a trajectory to success and make you feel like you're not alone, because you aren't. 
Create space for you. That's right, Mama, self-care is not selfish, it is necessary. Be it a workout to move through whatever you're going through, some time alone listening to music on a drive, enjoying a sweet treat by yourself, reading a book in a nook, or meditating to create space in the day, "you time" is  non-negotiable. You'll have more bandwidth to take on the world's challenges, you'll have more patience to hold all the day's stressors, and you'll fall into a routine that you can manage.
One day at a time. Life can feel overwhelming when you're juggling school, a career, mom-life, and life-life. It's all about daily, small adjustments. It's those incremental changes that will make a big impact. If your goal is to be a fashion designer, complete one task a day to get there and after a month that's at least 30 things you've done to move toward your goals. If your goal is to go back to school, do one thing a day that sets you up to be able to go back to school. Apply this to everything and you'll find that your dreams are more attainable than you imagine. 
Write it down, say it out loud, and breathe it into existence. Whatever your goals are, they are important. They matter and your power lies in your persistence. It also lies in your voice so stretch and take up space. Write it all down, say them aloud, scream them into your day, and be consistent about your hustle. The hustle isn't just about saying it, it's about doing it that makes all the difference. 
Surround yourself with eagles. They say that eagles fly with eagles and that metal sharpens metal. Surround yourself with people who encourage your ambitions and celebrate your wins. If you're not confident right now that's okay—confidence comes from trusting yourself. You'll learn to trust yourself through repetition. Feel the fear and do it anyway and know that the people who hold space for you and push you to go further...well, those are your people. 
Believe that you're a pro at the shuffle. The opinions of others can have the power to discourage you, don't let them. Sparkle, shine, and be proud of who you are and the life you're creating. Being a teen mom is not a misstep, it's a side-step. And you're a pro at the shuffle, baby. Read that again. 
The reality is, that no one gets to live your life but you. Create a life you love, cultivate a community you can stand beside, and use your voice to speak up about anything that matters to you. You matter here, and I hope these tips help you to navigate life a little more confidently. Go sparkle and sprinkle your sparkle throughout every day.